automerit® - a program that puts you in control of how much you pay for your
optional

car insurance

Already a customer? To activate, call Join the program by calling us at

Already a customer? Join the program by contacting us.
How does automerit work?
Available through the belairdirect app, automerit uses sensors aboard your smartphone to evaluate your driving habits and provide you with a personalized price based on how safe you drive. Only risky drivers will see their premium increase, while most of our clients will save thanks to their good driving habits.
A Personalized Dashboard
View your driving stats in real-time on your personalized dashboard.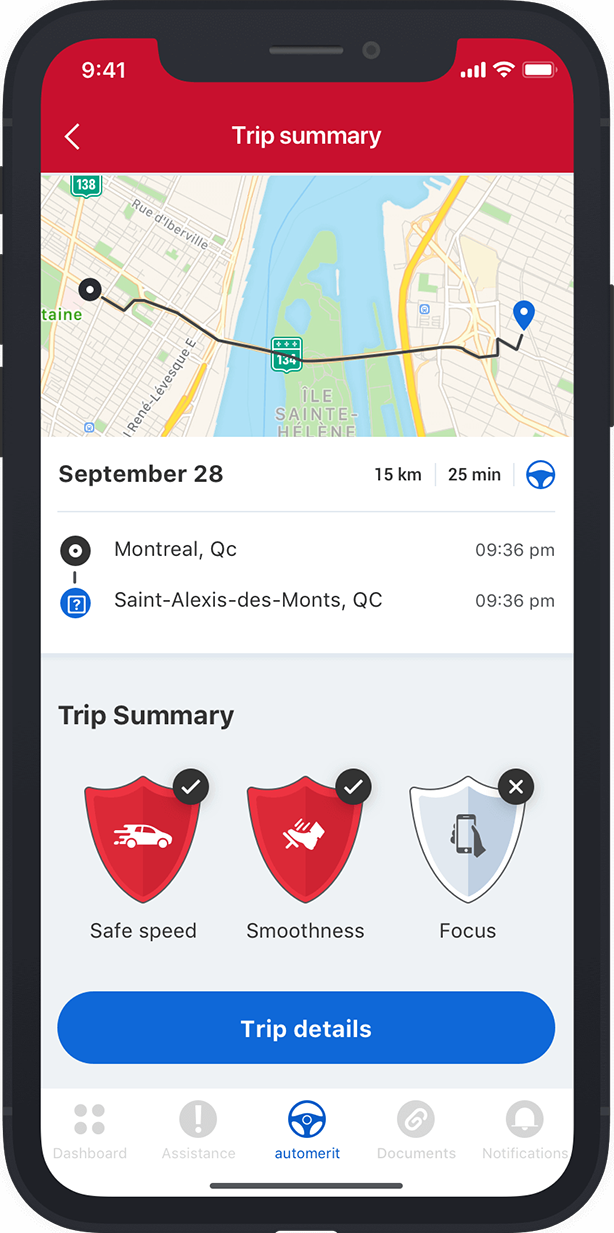 Trip Details
Get a detailed description of each of your driving events while you were behind the wheel.
Safety Score & Tips
Take a closer look at how safe you're driving and get personalized tips to improve your driving.
After each trip, you'll have access to:
What is a Safety Score?
Your Safety Score is a summary view of how safe you drive based on your driving data from the last 6 months. It is used to personalize the price you pay for your car insurance. The safer you drive, the higher your Safety Score is, and the more you could save.
What counts in your Safety Score?
Your safety score is mainly based on these 3 factors:
Safe Speed
Driving within the speed limits at all times.
Smoothness
Braking and accelerating smoothly.
Focus
Keeping your focus on the road and avoiding phone use.
There are still other pricing factors that could affect the price of your car insurance.
On-the-spot help with Crash Assist
Rest assured that you're in control knowing we'll be there to help when an accident occurs with our car accident detection and assistance feature, exclusive to automerit users. And it's free!
Discover Crash Assist
How to join the automerit program
Easy to join. Easy to use. Get a 10% 5% enrolment discount simply for signing up for the program.*
1

Sign up

Get a quote and subscribe to automerit. As you apply for your quote, subscribe to the automerit program.
2

Download

Download the belairdirect app, set up your account and activate the program.
3

Drive

You're all set! Let's hit the road and start saving* by driving safely.
Take control of how much you pay for your car insurance
Already a client? Call us to join automerit today .
Already a customer? Join the program by contacting us.
Frequently asked questions about automerit
Need some answers before joining our automerit program? We're here to help.
Still have questions? Browse our FAQ section or consult our Terms of use for automerit.
Subscribed before July 11th, 2020 October 18th, 2020? Consult the Terms of use here.
*Enrolment and automerit discounts are not applicable to GRID limitations for basic coverage premiums.
belairdirect gives you the tools and services
you need to get the most out of your insurance coverage