Create your profile and log in
The fastest way to access to your insurance
Welcome!
Enjoy easy access to your insurance by creating a profile in the belairdirect app or online. It's simple, quick and convenient.
For an even simpler experience!
Did you just get insurance with us? You will receive a confirmation email shortly. Simply click on the "Log in" button directly in the email to create your profile. Your information will already be filled in for you! Just remember to click this button within 72 hours before it expires.
1

Open the belairdirect app, select your province, and accept the terms of use. Then click on "Login"

You can download it from the App Store or Google Play.

2

Select "Sign up".

3

Select whether you're a "Policyholder" or an "Additional Driver". Click "Next".

Not sure? Click on "What's the difference?".

4

If you're a policyholder, skip ahead to Step 5.

If you are an Additional driver or we do not have your email on file, please enter your policy number, full name, date of birth and postal code. If you've already signed up for automerit®, you'll be asked to enter your driver's licence number.

5

Enter your email address and your mobile number (optional) to confirm your identity.

6

As a security measure, we will send you a 6-digit code to validate your identity. You can choose to receive it by text or email.

7

Depending on your choice in the previous step, you will receive a 6-digit security code by text or email. Once received, enter the security code and click "Next".

8

Lastly, choose a strong password and check "I agree to the Terms of Use" then click "Sign up".

9

That's it! You can now enjoy everything the belairdirect app and Client Centre have to offer.
1

Login to the Client Centre from the upper right-hand corner.

2

Select "Sign up".

3

Select whether you're a "Policyholder" or an "Additional driver". Click "Next."

Not sure? Click on "What's the difference?".

4

If you're a policyholder, skip ahead to Step 5.

If you are an Additional driver or we do not have your email on file, please enter your policy number, full name, date of birth and postal code. If you've already signed up for automerit®, you'll be asked to enter your driver's licence number.

5

Enter your email address and your mobile number (optional) to confirm your identity.

6

As a security measure, we will send you a 6-digit code to validate your identity. You can choose to receive it by text or email.

7

Depending on your choice in the previous step, you will receive a 6-digit security code by text or email. Once received, enter the security code and click "Next".

8

Lastly, choose a strong password and check "I agree to the Terms of Use" then click "Sign up".

9

That's it! You can now enjoy everything the belairdirect app and Client Centre have to offer.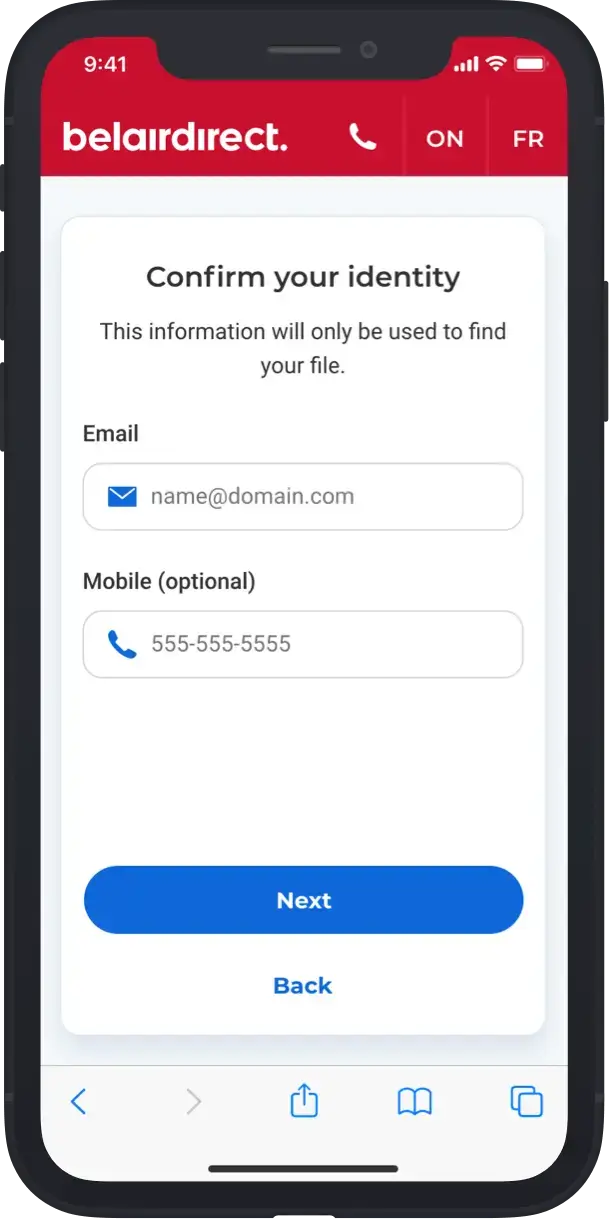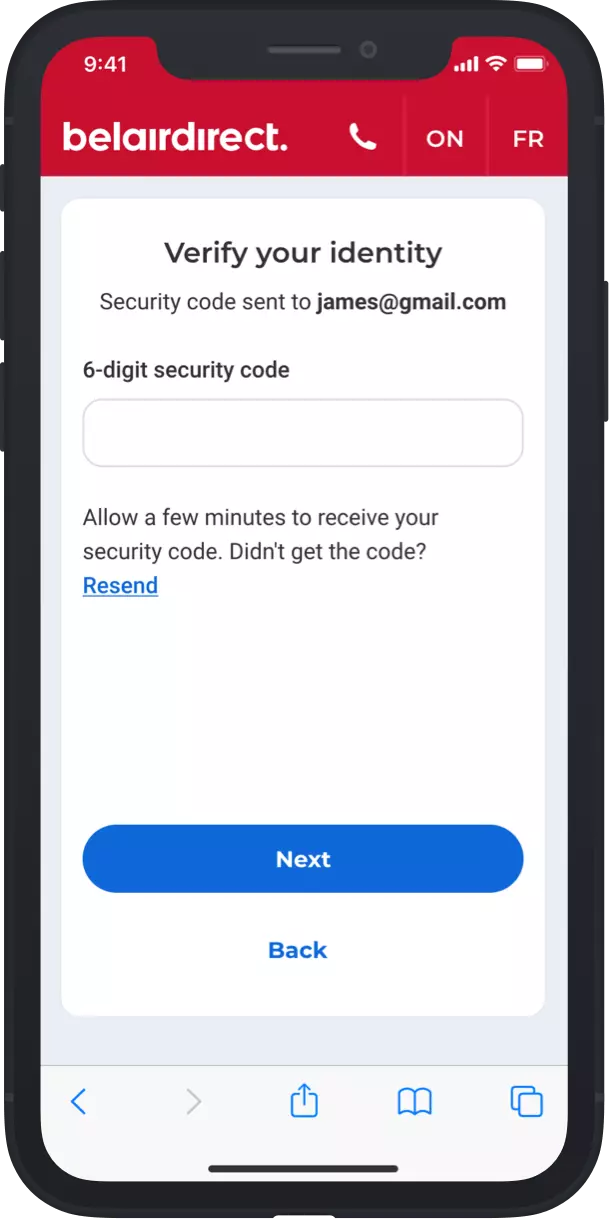 How to log in
Already created your profile and ready to explore? Follow these simple steps!
1Go to the belairdirect app and enter your email and password.
2No smart phone? No problem! Click "Login" in the upper right corner of your screen.
Pssttt! Select the "Remember my email" option to speed up the process.
Got questions about creating your profile or logging in? We have answers for you!
Create a new one! Click "Forgot password" on the login page. Enter your email and click on "Reset password". Within a few minutes, you will receive an email with a button that says "Change your password". Click on it and follow the instructions. Do not wait too long, as this email is valid for two hours following your request.
Your profile may have been locked after several failed login attempts. Don't worry, it's still there! To reconnect, simply reset your password by clicking on "Forgot password".