Subscribing and connecting to the Client Centre
Take advantage of our online insurance services with the Client Centre!
Not registered yet?
The simplest way to sign up for the Client Centre is by clicking the "Connect" button located in the email you'll receive after purchasing an insurance product from belairdirect. This email contains all the required information for registering. This button will be functional for up to 72 hours after receiving the email.
If ever the button expires, all you need to do is follow these steps to access your Client Centre profile.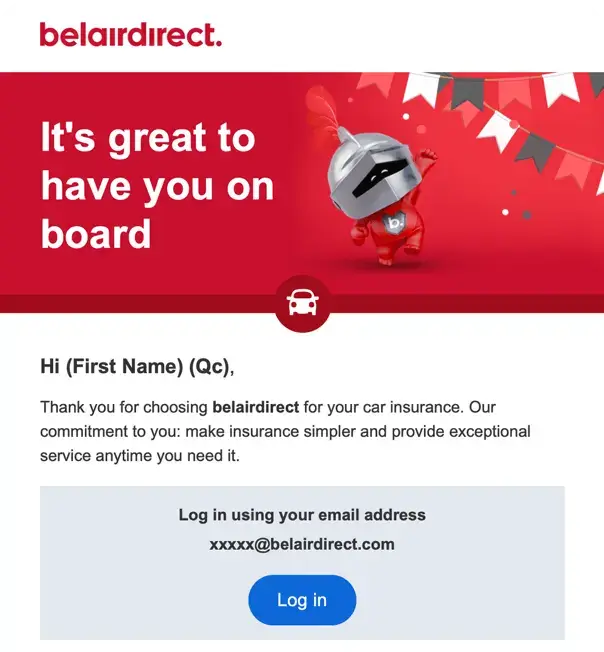 How do I sign up for the Client Centre?
Follow these steps to sign up for the Client Centre online:
1

Open the belairdirect app, select your province, and click on Login. Then and "Accept" the terms of use.

You can download it from the App Store or Google Play.

2

Select "Sign up".

3

Select whether you're a "Policyholder" or an "Additional Driver". Click "Next".

Not sure? Click on "What's the difference?".

4

If you're a policyholder, skip ahead to Step 5.

If you are an Additional driver or we do not have your email on file, please enter your policy number, full name, date of birth and postal code. If you've already signed up for automerit®, you'll be asked to enter your driver's licence number.

5

Enter your email address and your mobile number (optional) to confirm your identity.

6

You will receive a 6-digit security code to your email. Once received, enter the security code and click "Next".

7

Lastly, choose a strong password and check "I agree to the Terms of Use" then click "Sign up".

8

That's it! You can now enjoy everything the belairdirect app and Client Centre have to offer.
1

Login to the Client Centre from the upper right-hand corner.

2

Select "Sign up".

3

Select whether you're a "Policyholder" or an "Additional driver". Click "Next."

Not sure? Click on "What's the difference?".

4

If you're a policyholder, skip ahead to Step 5.

If you are an Additional driver or we do not have your email on file, please enter your policy number, full name, date of birth and postal code. If you've already signed up for automerit®, you'll be asked to enter your driver's licence number.

5

Enter your email address and your mobile number (optional) to confirm your identity.

6

You will receive a 6-digit security code to your email. Once received, enter the security code and click "Next".

7

Lastly, choose a strong password and check "I agree to the Terms of Use" then click "Sign up".

8

That's it! You can now enjoy everything the belairdirect app and Client Centre have to offer.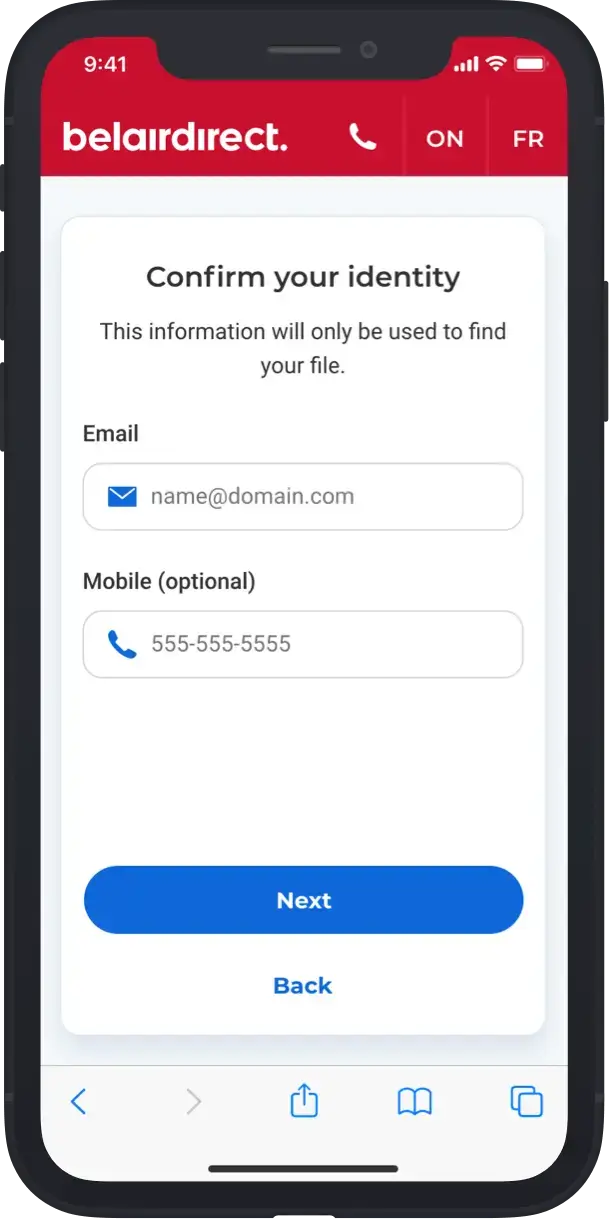 How can I connect to the belairdirect Client Centre?
Once your Client Centre account has been created, follow these steps to access your account:
1 From the belairdirect website, click on Client Centre in the top-right corner, or open the belairdirect app on your smart device.
2 Enter the email address and password for your account, then click to proceed.
Quick tip: To speed up the sign-in process, you can choose the "Remember my email" option.
Good to know
After your first login to the Client Centre, we recommend following the brief guided tour. You'll learn how to locate documents and important payment information.
Each step will highlight important sections for each page to allow you to better understand how to use the different functions and where to click.
And voilà! Once the guided tour is complete, you'll have access to several functions that will allow you to take control of your insurance from anywhere.
Discover everything you can do online right from the Client Centre
Frequently asked questions about subscribing and connecting to the Client Centre
Do you still have questions about setting up your Client Centre profile? We're here to help.
If you forget your password, you can request a new one by clicking "I forgot my password". You'll receive an email containing a button that says "Modify your password" that will remain active for up to 2 hours once you've made the request.
Your profile may be locked after several consecutive unsuccessful login attempts. After 3 attempts, you will be invited to reset your password via an email.