You could save up to $150* on your car insurance in Quebec
It pays to switch your car insurance to belairdirect!
Getting a car insurance quote in Quebec
has never been easier
Apply online or call us today to get a quote and see how much you could save on auto insurance in Quebec with belairdirect. It's simple, it's quick and it's absolutely free!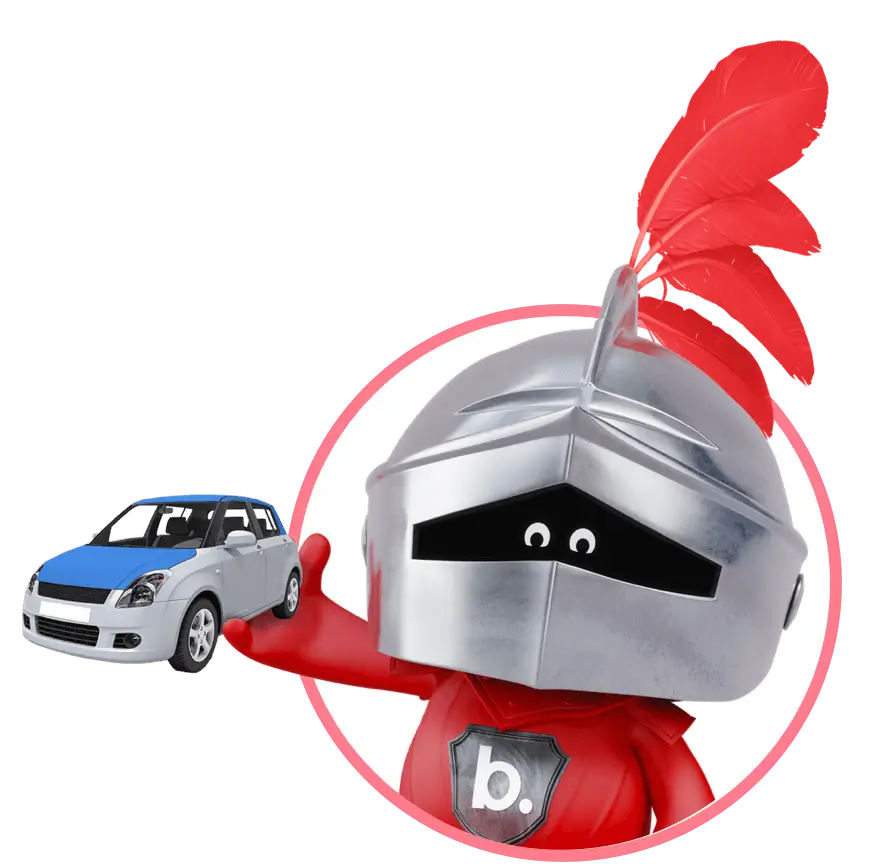 Your insurance pal for Quebec roads
Whether you're looking to stick to the basics or to level up your car insurance, you've come to the right place! On top of the mandatory car insurance coverages required to hit the road in Quebec, you can choose from our wide range of insurance options based on your car, lifestyle and budget.
Mandatory auto insurance coverages in Quebec
You are required by law to have Civil Liability Coverage no matter what car you drive in Quebec.
Mandatory
Civil liability coverage
Pays for damage done to others or damages to your car when you're not at-fault for the accident
It covers:
material damage caused by your car in an accident that you caused
damage caused by others to your car in an accident
medical bills for anyone you injure if the accident happens outside of Quebec, or in the United States
Quebec's public automobile insurance plan (The SAAQ) pays for injuries regardless of who's responsible for the accident. You can choose a coverage amount of $1,000,000 or $2,000,000 based on your needs.
Standard coverages in Quebec
Get additional protection for damage to your vehicle with these standard auto insurance coverage.
Standard
Collision and Upset
Pays for repairs to your car when you're responsible for hitting someone or something with your car.
It covers:
collision with another car
hitting an object
collision with a person or an animal
car flips over
hit-and-run accident
Standard
All Perils other than Collision or Upset
Covers broken glass and all damage not related to a collision or if your car flips over.
It covers:
broken glass
theft, attempted theft, vandalism
storms and natural disasters
damage caused by falling trees or other objects
fire and explosion
Standard
Specific Perils
Protects your car against specific types of damage and theft.
It covers:
theft, attempted theft
storms and natural disasters
fire and explosion
Optional coverages for Quebec drivers
Extend your auto insurance to match your driving style and your car with these optional add-ons.
Optional
Accident Forgiveness
Prevents the price of your insurance from going up as a direct result of your first two at-fault accidents.
Optional
belairdirect roadside assistance®
Provides 4 emergency services per membership year when you run into trouble on the road.
It covers:
towing (within 50 km from the breakdown location)
spare tire installation
locksmith services
gas delivery (up to 10 L)
removal of your car from a ditch
battery boost
Available in Canada and the United States only
Optional
Autocomfort®
Offers several options to expand your protection in case of an accident.
It covers:
reimbursement for a rental car after an accident involving your car
damage to a rented or borrowed car
no out-of-pocket deductible to pay after a hit and run
no out-of-pocket deductible to pay when your car is a total loss
person who drives a car borrowed or rented in your name
increases your death benefits fund (Accident Benefits Insurance) if you or your spouse are killed in an accident
Collision and upset and All Perils other than Collision or Upset coverages are required to be eligible for Autocomfort.
Optional
Replacement cost protection
Replaces your car with a new car with similar specifications, accessories and equipment, if the car is stolen or damaged beyond repair.
It's covers:
financial compensation or replacement of your car with a new car with similar specifications, accessories and equipment
What to expect when
driving in Quebec
The Royal Alexandra
Interprovincial Bridge
The Royal Alexandra Interprovincial Bridge (or the Alexandra Bridge, as the locals say) is a bridge that connects Ottawa, Ontario and Gatineau, Quebec over the Ottawa River. Every day, over 15,000 vehicles cross through the border.
Winter tires mandatory by law
In Quebec, winter tires are mandatory by law during the winter months. From December 15 to March 15, all passenger vehicles must be equipped with them.
Turning right on a red light
On the island of Montreal, you cannot turn right on a red light. Everywhere else in Quebec allows this practice unless specified.
Pothole repairs
Over the next 3 years, the Quebec government plans to spend over $75 million on pothole repairs throughout the province.
Bypassing a red light
In Quebec, you cannot cut through a gas station, parking lot or the local Tim Hortons to bypass a red light at an intersection.
Drive in Quebec
In order to drive in Quebec, you must be at least 16 years of age in order to get your learner's permit. You'll also need consent from a parent or legal guardian if you are under the age of 18. You'll have to pass a classroom component as well. Once you get the learner's permit you can take the test for the full licence after you have had 10 months of practice with another licensed driver beside you.
New drivers in Quebec
So you passed driver's licence test? Congratulations! Driving on your own is a big step in any young person's life.
Being a new driver means you'll need insurance coverage. Due to your lack of a driving record, your rates may be higher than someone with several years of experience. Statistically speaking, young adults and teenagers between the ages of 20 to 24 are more likely to be involved in accidents resulting in injuries or death.
More questions about car insurance?
Ready to compare your current premium or get a new car insurance quote for Quebec
Are you specifically looking for car insurance quotes in Quebec City or for more information about auto insurance in Montreal? We have what you need!