6 tips for an eco-friendly road trip
Even if you're travelling by car, a road trip can still be an eco-trip that respects the environment! Remember, it's the small changes that help us to decrease our carbon footprint. Here are some tips to help you get started as an eco-tourist road-tripper.
---
Driving and maintaining your vehicle
Before putting the key in the ignition, visit your mechanic for maintenance and a general inspection. A vehicle in good condition makes for a lighter footprint!
When you're behind the wheel, opt for eco-driving. Start slowly, change gears earlier, avoid sudden acceleration, limit the use of air conditioning, and above all... drive more slowly! Less speed equals less fuel consumption. Note that several insurance companies reward good driving habits. Find out more about our automerit program; it's one more reason to put yourself in cruise mode! Get more tips on eco-driving here.
Plan your itinerary
Planning is also saving. Plan your travel to find the most efficient route according to your needs and locate gas stations ahead of time for better management of fuel consumption. So many detours can be avoided with just a simple plan!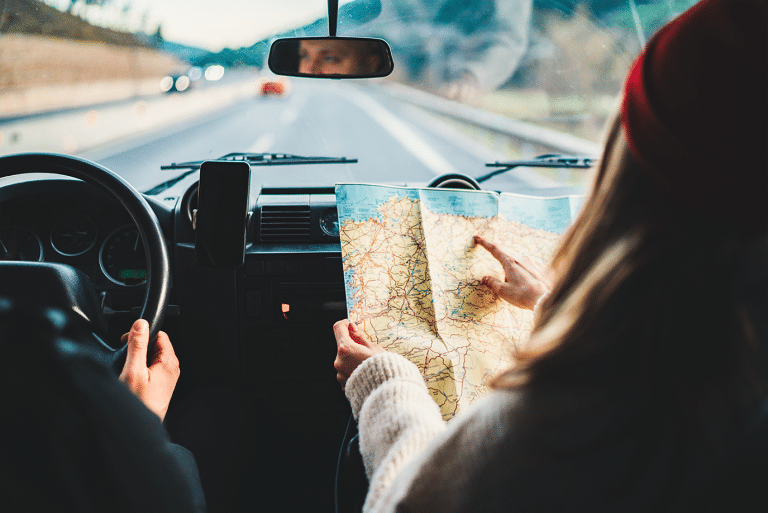 For a better ecological footprint, choose destinations closer to home. Canada is full of unusual roads and places to visit by car. You don't have to stray too far to be amazed.
Think about what you pack in the trunk
It's time to make a list! You'll find items in your cupboards that are perfect for packing in your car. Reusable containers, utensils and napkins are welcome additions to your baggage. You can avoid food waste and, if you stop at a drive-thru, you don't need to grab the plastic utensils.
Reach your zero-plastic goals by bringing a water bottle or a flask for drinking water. Don't forget your reusable bags for shopping, snacks, and everything else.
Go local
Encourage local merchants during your stops, as well as at your end destination. Enjoy food from local restaurants, shop from local artisans, and visit local attractions. Think farms, cheese factories, vineyards, etc. In addition to promoting the local economy and reducing the commercial ecological footprint, you will immerse yourself in your host region. Discover what makes it unique!
Manage waste
Just like at home, take care to dispose of your waste properly and make room for trash, recycling, and compost. These three divisions can be recreated on board the vehicle with a bag for each. For the compost, opt for a large Mason jar which is airtight and contains odours. Aim for a trip that leaves nothing behind. As soon as you come across large containers, dispose of your waste and don't let anything fly out the window!
Respect nature
Spare the flora and biodiversity during your road trip. If you come across wild animals en route, do not feed or approach them. Stop at designated rest areas or places designed for vehicles. Protecting our ecosystems is essential for the environment! If you're going to a regional park or nature preserve, find out what rules to follow for eco-responsible behaviour.
Whether cleaning the interior of your vehicle, washing your hands along the way or even brushing your teeth between stops, use natural products designed to maintain the earth's natural balance. Every little bit counts!
Are you planning on taking a road trip soon? Speak to our insurance agents before embarking on any trip to verify that your auto insurance coverage is suitable for your plans. Any other ideas for reducing our ecological footprint on the road? Let us know in the comments section!